Evaporator Services & Support for Life
Facility Planning & Regulatory Compliance
After you decide to purchase an ENCON evaporator, the ENCON Sales Engineer can assist your Engineers incorporating the ENCON evaporator into the plant. If needed, ENCON can also design and quote complete systems that may include PH adjustment, activated carbon ion exchange, and more.
---
Making sure your new evaporation system is fully compliant with all regulations is of utmost importance. Let us help. We can help with regulatory paperwork including air permit exemption paperwork and exemptions for hazardous waste applications.
Support For Life
You're not on your own after you purchase an ENCON evaporator. Our Service Engineering Team is here solely to support you, from start-up through the life of the machine.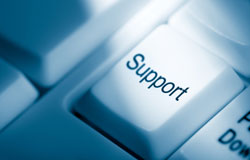 We can provide start-up assistance, either remotely or at the facility. We can also provide comprehensive training.
Technical assistance is always available, whether to diagnosis a problem by phone, remote dial-in, UPN connection, or on-site. Our Engineering team can also provide guidance regarding controls, tanks, valves, pumps, alarms and level sensors for complete wastewater evaporation systems.
Documentation support includes ENCON layout diagrams, operational & maintenance manuals, ID diagrams and more. ENCON even maintains a complete record of all matters having to do with your evaporator, including prior correspondence. This is to ensure continuity is maintained if one of our Service Engineers is traveling or on vacation.