Drum Dryer Installation
The ENCON Drum Dryer is operated in batch mode. Installation of the ENCON Drum Dryer is very straight forward and typically handled in a few hours by facilities, maintenance, plant engineering, or an electrical/mechanical contractor. Utility and facility requirements include: either 208/240/480Volt/3PH or 220Volt/1PH power supply, compressed air supply for pneumatic piston lift, 5 inch diameter stack to outside of building for vapor exhaust, and an approximate footprint of 5 x 5 feet.
---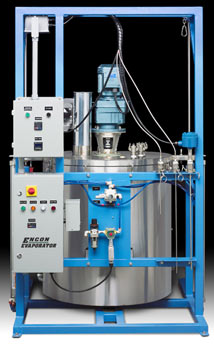 Stacks of varying materials are easily connected to the exhaust stack with the provided quick connect/disconnect adapter and ring clamp. The stack is typically installed vertically through the ceiling but can also be run at a 45 degree angle to a nearby wall then vertically up the side of a building. Recommended stack material include: galvanized, stainless, and CPVC.
Referenced power supply is run to the control panel. All system components such as control panels, thermocouple, temperature controller, cycle timer, mixer, and blower are pre-wired and tested at the factory. Since the system operates in batch mode, sludge and slurries can be fed from a pump to Dryer system through a 1 inch NPT standpipe inlet or by opening Dryer lid and manually feeding sludge and slurry into the drum.