Encon Drum Dryer Capacities & Dimensions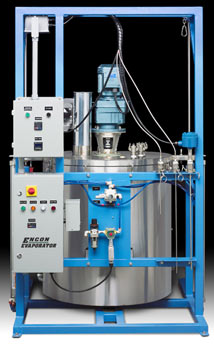 Specifications
The ENCON Drum Dryer is designed with the following features:
Low speed/high torque 316SS mixer.
Pnuematic lifting system with mechanical safety latch for lid/mixer assembly.
Micro safety switch to lockout heater and mixer when lid/mixer assembly is in raised position.
Hastelloy C type J thermocouple
Programmable temperature controller with digital display
Programmable cycle timer with digital display.
316L Mist Eliminator
4 inch ceramic fiber insulation in clamshell walls
2 inch ceramic fiber insulation in lid.
Illuminated power on and drum dryer mode selector switches.
Disconnect switch on control panel door.
Drum dolly with industrial grade casters.
---
Dimensions and Specifications
Drum Dryer Dimensions: 66 x 62 x 103 inches in open position (L x W x H)
Drum Dimensions (NOTE: Drum Supplied by Customer): 21 – 23 inches (D) x 36 inches max (H)
Drying Rate: Variable based on application.
Drum Dryer Stack Dimensions: 5 inch diameter x 25 foot max. straight vertical length
Drum Dryer Volumetric Airflow: 120CFM at 70F and 0.2 inches of water column