Drums Dryers For Dewatering Sludge
ENCON offers the ENCON Drum Dryer for dewatering concentrated slurries and sludge to a dry land fillable (see NOTE below) condition. These systems are electrically heated, operate in batch mode, and are controlled on a time and temperature basis. Typical applications include: bottoms from ENCON Thermal evaporator, concentrate from ENCON MVC Evaporators, concentrated salt slurries, viscous solutions such as water based inks and paints, other water based sludge applications.
---
The ENCON Drum Dryer Advantages
Constant circular and vertical mixing of sludge or slurry to ensure homogeneous drying.
Drum can also be the disposal vessel to minimize handling.
Timer controlled to avoid over drying.
Temperature controlled for safe drying.
Pneumatic lift system to easily remove mixing system from drum.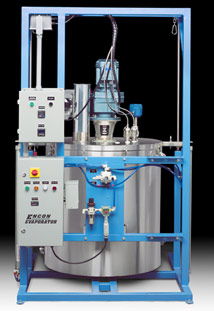 The ENCON Drum Dryer completely encapsulates a 55 gallon drum of sludge or slurry and heats it from outside the drum. Since the heating elements do not contact the sludge or slurry there is no requirement to clean the heat transfer surface. Temperatures are controlled with a thermocouple and timer system to provide drum dryer for sludge dewateringconsistent heating and accurate level of dryness. Hi torque motor and gear reducer provide gentle and consistent agitation even as solutions become more viscous and solid.
Pneumatic lifting system allows easy removal of lid and agitator system at completion of drying. Hinged clamshell walls along with pneumatic lifting system allow easy removal of drum and dolly for loading and unloading.
NOTE: Determination of whether or not dried residue is landfillable is responsibility of the customer and should be done in accordance with local, state, and federal regulations. ENCON does not imply or suggest that dry condition is sole requirement for disposing residue in landfill or other unregulated disposal facility.